A classic yet modern makeover of your kitchen is something that will change your idea that a kitchen is a boring place. A common characteristic of farmhouse sinks is that they are large and have a classic yet modern aspect to them.
Overall, they're well-built and aesthetically pleasing; and also easy to keep clean. These are just a few of the reasons why homeowners love them. It's easy to like farmhouse sinks, but it's not so easy to buy them.
With so many options available, picking the correct one for your kitchen may be a challenge in and of itself. In this post, we'll show you how to install a farmhouse sink in your newly remodeled kitchen.
You can't get enough of this sink's big (deep and wide) design. In addition, it has a fantastic visual appeal that makes it a center point in your new kitchen from the very first glance.
It can, however, be a difficult and time-consuming task to choose the perfect farmhouse sink for your kitchen. A variety of materials, styles, colors, and sizes will have to be considered in order to choose the appropriate sink for your kitchen.
The good news is that we're here to lend a helpful hand. In order to provide you with the most comprehensive list possible, we combed through hundreds of farmhouse sinks and narrowed them down to just a few.
Read about the 10 best farmhouse sinks in the guide and make your buying decision easier.
Best Farmhouse Sinks In 2023 — Expert Picks
1. Kraus KFR1-33GWH Turino 33-Inch Farmhouse Sink
Our expert team's favorite farmhouse sink is the Kraus KFR1-33GWH due to its unmatched features. This Italian-made sink combines traditional craftsmanship and high-quality materials to create a stunning look.
This farmhouse sink's resistance to crazing and cracking demonstrates its finesse. Once it's installed, it'll shine like a diamond in your kitchen. The sink is also stain-resistant and it is one of the best features of this product no doubt.
Advanced glazing technology has been used to process the clay that was used to create this ink. In fact, it was fired at almost 2,300 degrees Fahrenheit. A durable and damage-resistant surface will give you enough room to perform your work in the kitchen.
You should always keep in mind that this sink is extremely durable and thick as well. KFR1-33GWH is reversible and a set-drain is installed with a modern flat apron. You can choose between a traditional rounded apron and the more modern flat one.
Furthermore, the sink has a single bowl that is both incredibly large and deep. Because of its depth and straight sidewalls, you can work uninterruptedly. Bakeware and stockpots of any size are no problem for it to handle.
This is an oversized super deep sink with the side corners over-mounted that will allow you to perform the work without any hassle. Kraus is one of the most reputed brands in the market and is crafted by Italian experts.
The design and manufacturing process is seamless with a perfect draining system. There is an optimized bottom slope with glassware which is not very sturdy.
The glassware helps the sink from toppling over and also prevents water from clogging and pooling inside the sink. The cleaning process of the sink is easy and gives you no trouble at all.
When you want to clean soapy water, you can just use a wet cloth to clean it. The materials that are used to build the sink are one of the best features of the sink that the expert team asks you to consider.
The heavy-duty stainless grid is accompanied by protective rubber bumpers that allow easy draining and also avoids the dishes from getting scratched. The glazing technology with an extra thick finish gives it perfect durability and also resists stains and scratches.
The product is available in a matte finish and high gloss.
Pros:
The deep sink with enough room for performing kitchen works.
Glazing technology with stains and scratch resistance.
A protective grid prevents water from clogging.
Super drainage system with heavy-duty stainless grid.
Available in a matte finish and high glossy look.
Glassware with drainage that prevents water from pooling in the sink.
Easy to clean with just wet clothes.
Cons:
The surface is a bit slippery.
5 years warranty comes with terms and conditions.
---
2. Sarlai Single Bowl Farmhouse Sink
Sarlai is another reputed brand in the market of kitchen sinks. Our team has found that most of the customers often choose Sarlai because of its uniqueness in design and manufacturing.
The best part of the product is the usage of Fireclay (a type of white clay) in the manufacturing of the product. It is extremely durable and sturdy at the same time.
It will never give you any chance to complain due to its robust and shiny finish that enhances the look of your kitchen instantly. It comes in a variety of sizes, so you have a lot of options.
This kitchen sink's construction makes it resistant to denting and other flaws. With a 16-gauge thickness, it is extremely durable and strong. It's a long-term investment that's well worth it.
An added bonus is the matte white finish, which makes it a stunning focal point in your new kitchen. This finish is stain- and scratch-resistant, making it ideal for outdoor use. It is super easy to clean and lasts longer than standard sink finishes.
There are a lot of features to talk about when it comes to choosing Sarlai farmhouse sink. Material that dampens sound and vibration and allows for a quieter operation has been used to construct this kitchen sink.
Moreover, the bowl with extra depth to accommodate large items is another feather added to the cap. Under the sink, the rear-set drain provides more accessible surface area and storage space.
It is possible to install this white farmhouse sink on either side. For a different look, it can be installed on the reverse side! Your style preference will determine the installation method.
In a kiln, the sinks are fired at a temperature of 2900 degrees Fahrenheit after they are formed from clay and other minerals combined. The ceramic that is both glossy and durable, and that is denser and stronger than porcelain, is used in the manufacturing of this farmhouse kitchen sink.
No odors or stains can be absorbed by the non-porous glaze, and it is scratch-resistant, too. There are no cracks or chips in this material. Our team suggests that you go for this product without giving it a second thought. This will never give you any disappointment sure.
Pros:
White fireclay to ensure durability and sturdiness.
It is absolutely scratch and stain-resistant.
It gives enough space for you to perform every work.
The non-porous glaze allows you to prevent staining.
The drainage system is seamless with no water clogging guarantee.
It can be a worthy investment as the brand is extremely reputed.
Cons:
The surface can be a bit slippery.
Customer service is not very appreciable.
---
3. Bokaiya Stainless Steel Farmhouse Sink
Bokaiya is the third product our experts have chosen and our team is sure that the customers will love it for its different and innovative features. The T-304 stainless steel is used for the manufacturing of this product with a 16 gauge construction.
The manufacturers have also used a brushed nickel finish to ensure the product can resist corrosion, scratch, dents, and stains. As a result of overhanging lips on the back and front of the sink, it can be converted into a workspace.
As a cutting board or separate sink mode, it can be switched on and off. Cutting Board is big enough to completely cover the sink and dirty dishes if you don't want to wash them right away.
The thicker & softer Rubber Noise Reduction Pads on this apron in front kitchen sink make it incredibly quiet. Sound is absorbed from the source with the Thickening Noise Reduction by Anti-condensation.
It has an X-shaped flow line to prevent clogging. You can clean or soak large bakeware or cookware in this extra deep bowl, which measures 10 inches in diameter.
The corners are easy to clean and undermount installation provides you with a lot of counter space. Your sink becomes a workspace when you install a single-tier track.
Simple and contemporary, the kitchen sink features clean lines and a brushed stainless steel finish. The sink's sloping bottom and four drain grooves direct water toward the drain, preventing water from pooling in the basin's bottom.
As a result, dirty dishes can be stacked higher in deep bowls and washed more easily without a mess. A clean and dry sink is a necessity and our team knows that.
The sink dish drainer is another part of the product that can be easily used as an additional space for performing other kitchen-related works. As well as being a sink dish drainer, it can also be used as a colander to cut fresh fruits and vegetables.
The colander is also manufactured with solid stainless steel that guarantees durability and seamless performance. It allows a flexible functionality and you can enjoy performing a variety of tasks.
Bring home this 33 inches sink which is 10 inches deep to make sure that your kitchen work is not hindered in any case. The customer care team is quite responsible and they can solve all your queries. However, the brand does not inform anything related to the warranty.
Pros:
The stainless steel farmhouse sink is a complete package for your kitchen.
The colander and dish drainer allows seamless water draining.
The cutting board can be used to cut vegetables and fruits.
Noise reduction technology is included to prevent sound and vibration.
Deep sink to keep heavy cookware.
Customer service is extremely praiseworthy.
Cons:
No information related to the warranty is provided.
Installation may need a professional.
---
4. BOCCHI Classico Farmhouse Single Bowl Kitchen Sink
Our team of experts knows that it is extremely necessary to choose a product that is built with environmentally focused materials. The Eco-conscious sinks of Bocchi are one of the popular choices of the customers because it has been found that none of the materials are scrapped and everything can be recycled.
Environmentally friendly materials and manufacturing methods, as well as a reduced carbon footprint, are just a few of the ways the brand strives to be eco-friendly at every turn.
That is why our team of experts has decided to give Bochhi a space in our guide. Stain resistance is one of the common features that this farmhouse sink has.
Resistance to stains is necessary because rust and corrosion stains are the list things that you would expect after investing in a product. However, unlike other chosen products, this sink anti-splash feature prevents water from spitting out of the sink while we clean your dishes.
The product is non-porous with stainless steel so that you never face any issues of discoloration, fading or corrosion, and rust. Pots and pans can be heated to 2000 degrees Fahrenheit without causing damage.
This sink is heatproof and your cookware will be safe. Fireclay with a solid wall construction resists chipping and impact damage and is incredibly durable. Sinks with Bocchi's unique glazing technology have surfaces that are 19 times smoother than average ceramic.
Mineral deposits can be removed easily, preventing lime stain and rust build-up. However, you have to keep in mind that you should avoid using any harsh chemicals on the sink while cleaning it.
The product has a hydrophobic effect that makes cleaning easier and faster. You just have to use a wet cloth to clean the soapy water particles. The product is available in multiple colors and designs.
You can choose any design to fit it in your kitchen. Your home décor will be a complete one when you install this Bochhi farmhouse sink in your kitchen.
With 33 inches sink and cabinet, this can be your best companion for completing all the office works seamlessly and without any hassle. Get ready to bring this home without delay.
Pros:
The sink is absolutely eco-friendly with all recyclable materials.
Stainless steel material with a non-porous finish.
The glazing technology and heatproof features are the best.
Resistance to stain, scratch, and dent.
The hydrophobic effect makes it easy to clean.
Customer service is impeccable.
Cons:
The drainage system can be a bit difficult.
No information about the warranty of the product.
---
5. Logmey 30 Inch Single Bowl Farmhouse Sink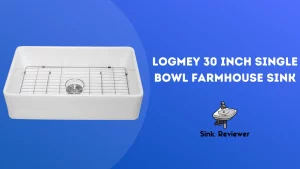 The best white farmhouse sink to complement your grey kitchen counter can be found by visiting our website. If so, this Logmey is an excellent choice. The unit has a different curve than the other units on this list because it is made of fireclay.
The material is extremely durable, scratch-resistant, and stylish in appearance. Moreover, fireclay is an excellent example of a simple quiet material that will absorb noise when working at a sink or faucet.
With a damp cloth and soapy water, it's easy to clean because it's non-porous and highly hygienic. Because it can withstand temperatures of up to 550 degrees Fahrenheit, this sink has now become a number one choice among homeowners.
Because of this, you can put hot pots and pans in it without worrying about damaging it. Despite being impervious to stains and scratches, its pure white appearance will last for years to come.
You can expect a wide and deep bowl in this farmhouse kitchen sink to allow putting all the heavy and large items. Under the sink, the rear-set drainage allows for more space to be used, as well as more storage space to be created.
The ceramic material used in this product is extremely durable and shiny at the same time. It only not creates a complete aesthetic look in your kitchen, but also ensures that you enjoy a prolonged period of seamless performance.
The stainless steel material is used to build the product and it gives an excellent long-lasting performance. The sink measures 30*20*9 inches and requires a 33-inch cabinet to be installed.
Extras such as a bottom rinse and drain strainer are included in the complete package. Logmey is one of the trusted brands and most of the customers choose it to enhance the quality of their work.
The stainless steel drain strainer also makes sure that the garbage particles do not go into the drain and you can empty the basket in the disposal unit easily. The bottom grid is also made up of stainless steel that ensures your sink is well-protected from scratches and stains.
A smooth glazed with a white ceramic finish changes the look of your kitchen entirely.
Pros:
Beautiful fireclay construction in white color.
Material that is naturally noise-absorbing.
Up to 500 degrees Fahrenheit heat resistance.
The surface that is easy to clean and has a non-porous texture
Comes with drain strainer and rinse grid
A limited lifetime warranty is included with your purchase.
Cons:
Installation can be a bit tricky.
The warranty comes with terms and conditions.
---
6. Koozzo 33-Inch Farmhouse Ceramic Kitchen Sink
Koozzo is one of such brands that is functional in the industry for more than a decade now. It has been found customers often choose Koozzo because of its compact and smart design. A farmhouse sink is generally heavy and hard to install.
This is where Koozzo is different from the other products that we have chosen. Koozzo is a lightweight ceramic white farmhouse sink with 33 inches deep bowl. The installation style is an apron and it is easy with no hassle at all.
Ceramic kitchen sinks have a timeless appeal and are a perfect fit for any kitchen. This sink is made of high-quality ceramic and is both stable and durable. The anti-scratch feature is another benefit that you can enjoy while using the sink for a prolonged period.
The product is coated with non-porous material to ensure that the sink remains hygienic with a glossy finish so that you can easily clean with by using a soft towel or a wet cloth. It can effectively remove the odors of the food particles too.
Multi-layer glazing is the best part of the sink so that the cleaning remains trouble-free. The interchangeable apron front is another essential feature of the product that can give you enough space to perform all the work related to the kitchen.
The ceramic finish makes it a long-lasting one and your newly constructed kitchen will look elegant and classy. The brand does not provide any information related to the warranty of the product.
However, the customer service is praiseworthy as most of the customers say that the executives can solve all the problems in a jiffy. Get ready to bring this product home and install it easily. This product will never let you get disappointed with the performance.
Pros:
Stainless steel ceramic white farmhouse sink with apron style installation.
Multi-later glazing to ensure a smooth finish of the product.
The best style to improve the look of your kitchen.
The sink is hygienic and easy to clean.
The installation is easy and gives you no hassle.
Customer service is excellent.
Cons:
The water may splash sometimes.
No information about the warranty of the product.
---
7. Ruvati Fireclay Reversible Farmhouse Kitchen Sink
As far as kitchen sinks are concerned, Ruvati is one of the most recognizable names. Ruvati's production and distribution services are located in the United States, Italy, Spain, and Asia. Leading architects and specially made home builders trust Ruvati products.
This Ruvati sink is a good choice if you want a high-quality stainless steel sink at a reasonable price. The sink is constructed of 16-gauge stainless steel and has a brushed finish that is easy to clean and durable.
One side of the Ruvati fireclay sinks is flat, while the other side has a fluted design. Installation is possible either way: with the flat side facing forward or with the fluted side facing forward.
Your design preference is completely up to you. The sink's inside corners are gently curved. In addition to facilitating easy cleaning and water drainage, these features also make it easier to keep your home clean.
To keep your sink clean and dry at all times, the sink's bottom is slopped and has four drain grooves. Your new kitchen will be more elegant with the addition of a beautiful sink. Large cookware can be easily cleaned, soaked, and more in the super-deep 10-inch single bowl.
An extra-thick rubber undercoating and a heavy-duty sound guard are hidden beneath this sink. Together, they reduce noise and vibrations and prevent condensation.
A cutting board, dish drying rack, deep basket strainer, and stainless steel colander are just a few of the extras that come with this set. In your kitchen, this unit will serve as a real workhorse with all of its extra features.
Contrary to other manufacturers' hollow fireclay sinks, Ruvati fireclay sinks are developed of 1″ thick solid fireclay. Solid fireclay is much stronger and more durable than porous fireclay products.
Vacuous fireclay sinks may appear to be thick, but they are actually weak and prone to cracking. Authentic fireclay, including white clay which has been fired at 2,900 degrees Fahrenheit, is used in the construction of this sink from Ruvati.
In the end, we have a sink that is both strong and durable. Another sink with two sides: one smooth and flat and the other fluted and decorative, the Ruvati sink has a similar design.
Because of its design flexibility, anyone can install the sink based on their own personal style preferences. This sink's bowl is quite large. Its dimensions are 33 square inches by 20 square inches.
Dishes, pots, and other kitchen utilities can be worked on comfortably. Thanks to its gleaming finish, this farmhouse sink will become a kitchen centerpiece. Kitchen sinks are available now from Ruvati which can be one of the finest choices for your kitchen.
Pros:
Stainless steel sink with a complete set of the workplace.
The dimension is quite impressive.
Easy to clean and install with proper drainage.
Ruvati is one of the known brands.
The sink has features to prevent noise and vibration.
The ceramic finish stainless steel sink also prevents condensation.
Cons:
No warranty is provided with the sink.
The drainage can be a bit messy.
---
8. Houzer PTG-4300 WH Fireclay Single Bowl Kitchen Sink
Fireclay is one of the best things about this farmhouse sink. When it comes to knowing about the fireclay construction, Houzer is one of such brands that will tell you the details.
It is the most durable ceramic material. Houzer chooses the clearest fireclay from mining areas in the Mediterranean region, the soul of the ceramic world. Tests are conducted on fireclay minerals to ensure maximum durability and density for a lifetime of use.
Fireclay and water are the only natural ingredients used in the refinement process. There are no unnatural additives in this work of art, which is truly organic and natural.
That is why Houzer is one of the number one choices of many customers thinking about its high-quality fireclay ceramic. For over 70 years, fireclay artisans in Israel and Turkey have been creating this timeless classic.
A 20-hour baking process at 2200 degrees Fahrenheit is used to create Houzer sinks in modern ISO-certified factories. To create the centerpiece of your kitchen, their work of art is then hand-finished by skilled artisans.
The basic features of this sink are nothing different from the products that we have chosen in our list. The high-temperature treatment renders the sink's surface impervious to water. As a result, your fixture is stain, crack, and scratch-resistant.
The sink comes in two bowl sizes. Depending on the size of your base cabinet, you can select between 30 and 33-inch bowls. This Houzer fireclay farmhouse sink will not need any extensive remodeling or reconstruction of your cabinet while installing the sink.
When it comes to PTG-4300, Houzer hasn't gone overboard with the color choices. White and biscuit-brown finishes are available for this fireclay farmhouse. According to Houzer, the PTG-4300 is intended to be a classic and luxurious fireclay sink.
If you want to give your kitchen an authentic feel by using elegant and stylish kitchen accessories but do not want to compromise the sink's primary function, choose Houzer PTG-4300.
Pros:
High-quality fireclay ceramic created by skilled artisans.
Stainless steel sink resists scratch, stains, and cracks.
Available in two different bowl sizes.
Comes with stylish kitchen accessories.
The installation is easy with no need for remodeling.
Customer service is quite impressive.
Cons:
No information about the warranty of the product.
Some customers complain about the drainage system.
---
9. ZUHNE Stainless Steel Farmhouse Kitchen Sink
The ZUHNE Farmhouse Sink's key advantage is its functionality. For laminate, granite, solid surface or quartz kitchen counters it has an undermount installation.
It is also very versatile, as it comes with a drying rack, brush and sponge holder, drain strainers, and scratch protectors, among other accessories. This kitchen sink has a smooth operation.
Due to its sloped bottom, it can drain water and residues as quickly as possible. It is also virtually noiseless. Every time you use it, it mutes the noise. It can also be used to muffle garbage disposal vibrations.
This absolutely gorgeous stainless steel farmhouse sink from Zuhne will add a modern touch of style and elegance to your newly remodeled kitchen. It has a slightly curved apron on the front and is absolutely stunning.
It'll be a real conversation piece in your kitchen. This kitchen sink is more than just a pretty face. The construction of 16-gauge stainless steel metal gives it exceptional durability.
Plus, it has a natural stainless steel brush finish that is stain, scratch, and rust-resistant. This surface is also easy to clean, requiring only a quick wipe. In addition, it has a high level of insulation.
Water or ice that is boiling will not compromise the quality of the water. Additionally, this sink's insulation is more than adequate for protecting cabinets in its immediate vicinity.
The 16-gauge stainless steel construction of this kitchen sink will make your sink a long-lasting one. Lastly, the item is protected against corrosion and rust for as long as you intend to use it.
To damage, it would be virtually impossible due to its thickness. It also has a special glimmer and sheen. This dual-basin farmhouse kitchen sink is completely food-safe! Chemicals were not used in their production.
In addition, the tall farmhouse sink has a deep bowl design that gives you plenty of room to wash even your largest cookware. There's a 2.5x improvement in noise and vibration abatement, making it one of the quietest sinks available.
Also, keep in mind that this sink has a sloped base that allows for faster drainage and drying. Designed to be installed in an undermount style, it creates a sleek and modern kitchen appearance.
Purchase of this sink also includes a drain strainer, drying rack/grid protector, and a sponge holder (sold separately). Place your trust in this sink and enjoy its seamless performance.
Pros:
Stainless steel ceramic sink to provide endless performance.
Comes with accessories like a drain strainer, grid protection, and more.
The sink also has a sponge holder.
Comes at an affordable price that will not add to your financial worries.
Adequately deep bowl to make sure you can wash your cookware easily.
Can provide you with seamless performance.
Cons:
The warranty of the product is not revealed.
The installation can be a bit tricky.
---
10. ZUHNE Double Basin 60/40 Farmhouse Sink
The sink comes with 2 bowl partitions which are convenient to use for many purposes. It is kind of a complete package and makes sure that you do not have to face any difficulty while working in the kitchen.
This farmhouse kitchen sink from Zuhne is a complete package as it comes with a sponge holder, scratch protector grid, basket strainer, and more. It also has 2 drain strainers to make sure that there is no issue with the garbage disposal as well as water clogging.
The product is made up of tight radius R10 curved corners to give it a classy and elegant look. This can be regarded as one of the quietest farmhouse sinks because it is induced with Noisedefender technology which is simply great for ensuring a peaceful working environment.
The thermal insulation of this Zuhne is unmatched by any other product of the same series. Most of the customers know the uniqueness of this product is impeccable and you do not have to think about buying any other accessories and everything that you would need to perform a flawless working condition.
The sink is totally safe to use and it is the US certified. Zuhne is one of such brands that have products tested and certified. The sinks are absolutely free from stains and scratches and it has a prolonged life.
It is resistant to chips, stains, and cracks due to the high-temperature treatment. You don't have to worry about the clay surface being damaged by hot water or ice cubes.
In fact, Zunhe double basin farmhouses can continue to serve you long after their operating life has expired. In addition to the drain strainer and grid protector, Zunhe completes the package by including them in the package.
All those accessories are not included in the price. But, it has every necessary equipment and parts for a proper working environment. When size does matter in the kitchen sink selection, this double basic farmhouse product gives you enough space to stack your dishes and other large cookware. Get ready to bring this home and experience a different level of kitchen work.
Pros:
Construction that is both thick and dent-proof.
Drain water and other residues from the machine as soon as possible.
The sink is equipped with a variety of sink accessories.
Noise and vibration can be muted with this product.
Comes with every necessary accessory.
No issue with the installation.
Cons:
Fingerprint-resistant, but not as much as others claimed.
No information with warranty.
---
11. Ruvati Verona RVH9200 33″ Farmhouse Single Bowl Kitchen Sink
It was already told earlier that Ruvati is one of the best brands that people trust. Verona series sink of Ruvati has a different style and design. This one is the number one choice for people because of its unmatched features.
Our team has explored the features for you so that you can make an informed decision while looking for a suitable product for your kitchen.
Industrial-grade 16-gauge stainless steel metal is used to construct the sink, which is followed by a commercial-grade brushed finish.
The delicately curved inside edges that come with this sink will become obvious to you quickly. Easy to clean, and also excellent water drainage is offered by these.
There are four drain grooves at the bottom of the sink to ensure that water drains efficiently to ensure that your sink stays clean and dry at all times. Why should you choose Verona in the Ruvati series?
If you have any doubt in mind, we have come up with some of the major and undeniable reasons behind it. The first reason is the curved corners of the sink. It makes it a lot easier to keep the home clean.
There are gently curved inside corners and edges included with the Ruvati Verona sinks, making it far easier to keep the sink clean. Other manufacturers use jagged edges. The accessories that come with the product are something to die for.
Ruvati was a pioneer in the US market for workstation sinks. The Verona workstation series features excellent performance and impeccable accessories than any similar products on the market and which is undoubtedly true.
The hardwood accessories make the product sturdy and stable at the same time. It also ensures a prolonged and healthy life of the Ruvati sink. Accessories such as the 1-inch thick solid wood cutting board are made by Ruvati from solid hardwood.
Bamboo cutting boards are used in the majority of competing products, which are typically cheaper. As a non-hardwood, bamboo is prone to rot and cracking when wet.
As long as Ruvati's solid hardwood cutting board and accessories remain in good condition, they'll continue to serve you well. Last but not the list is the chrome-finished nickel that is coated in the sink to give it a shiny look.
A brushed finish on all Ruvati sinks is applied to 16-gauge stainless steel. Like satin, Ruvati's brushed finish is more resistant to scratches than satin.
Pros:
Ruvati has stainless steel finish with 16 gauge thickness.
Hardwood accessories to provide a sturdy finish.
Resistant to scratch and stains and has a prolonged life.
Comes with all the necessary accessories for kitchen work.
The brushed chrome finish gives a shiny look.
Impeccable drainage system.
Cons:
No information on the warranty of the product.
Some say that customer service is not up to the mark.
---
12. Sarlai 33 Inch Stainless Steel Farmhouse Sink
The brand Sarlai is actually famous for its contemporary look and design. The products are a mixture of both cutting-edge technology and traditional methods. The look has a different level of elegance and adds an extra oomph in your kitchen.
Do you want to know more about the product? Let us explore now! Due to its construction, this kitchen sink is resistant to denting and other flaws of all kinds. With a 16-gauge thickness, it is guaranteed to be both durable and strong for a long time to come.
It's a long-term investment that's worth considering. As it is made of stainless steel, blemishes and stains can adhere to the surface of the unit. A patented design for its drain ensures complete water drainage.
The drain is vertical and curved for speedy water drainage and is made of stainless steel. In addition, the sink's water hole is sloped to allow for complete water drainage; R10-unique 10mm radius inside the corners provides easy cleaning while maintaining a resolutely modern appearance.
The workstation for a Farmhouse Sink and the track is created by the ledges on the front and back of the boat. A cutting board or sink mode can be selected. Alternatively, you can use Cutting Board to cover the entire sink and dirty dishes.
Made from solid Sapele mahogany hardwood that is extremely durable and unlikely to warp or crack, this cutting board is sure to impress. Built from stainless steel bars and a flexible silicone frame, the roll-up rack is easy to fold and store.
It is extremely strong to hold the weight of dishes, pans, or pots. In addition to Sapele hardwood, this colander features stainless steel construction. Suitable for washing and drying vegetables and fruits, including citrus fruits.
Stainless steel construction protects the sink from scratches and doubles as a pot and pan drying rack. The drain hole has a 5° slope on the bottom for better water drainage and leak-proofing.
A water guideline in the shape of an X is also effective in allowing water to drain quickly. The backside of the drain hole allows for more source stock space.
To reduce noise from dishwashing and waste disposal, extra sound-absorbing pads measuring 3mm thick have been installed at the sink base and around the sink perimeter. Painting kitchen cabinets keeps condensation away and prevent it from damaging them.
Pros:
Construction that is extra thick and sturdy.
Condenses and rust are prevented.
Maintenance is quick and easy.
Complete water drainage is possible.
Includes a large bowl.
Comes with all the necessary items.
Cons:
No storage space is provided by any of the additional accessories that come with this sink.
No warranty on the product.
---
13. Sarlai White Farmhouse Sink
This is also another great product chosen for your kitchen. Our team has come up with this product because it has some great features that you must consider. This can be a worthwhile investment for you.
This description will tell you why you should choose this product from Sarlai. In addition to design and production, Sarlai focuses on providing the best customer service for kitchen and bath products.
In order for customers to have the best experience at home, Sarlai strives to create products that are humanized. Sarlai's kitchen and bath products are unique, elegant, fashionable, and of the highest quality thanks to its professional production lines and cutting-edge technology.
For a spiritually and physically comfortable experience, Sarlai offers various quality-controlled products. Choose Sarlai's life and the world will be better off as a result of your decision.
For years of beauty and reliability, this product is made from FIRECLAY, a special white clay that is fired at 2900 degrees Fahrenheit for strength and durability. No odors or stains can be absorbed by the non-porous glaze, and it is scratch-resistant, too.
There are no cracks or chips in this material. With rounded corners and a depth of 10 inches, a farmhouse sink is ideal for washing large cookware. Another great feature of this sink is that it's stain-resistant as well.
Despite the presence of the vilest ingredients, this item's appearance will not be compromised. A glossy surface keeps grease, oil, and other residues from adhering. The sink is never difficult to clean as a result of this design feature.
It also has a standard garbage disposal-compatible drain opening. The 33 inches of the deep bowl sink will allow you enough room to perform all the kitchen-related work seamlessly.
This sink's bowl isn't just large or broad, it is also deep. You'll have plenty of room to wash all of the kitchen tools you've used. Isn't it cool? Additionally, this model is equipped with solid and durable accessories that make it easier to operate than the sinks discussed previously.
As an example, there's a hardwood cutting board and roll-up rack. Get ready to bring this Sarlai white ceramic sink to your large kitchen.
Pros:
It has a pleasing aesthetic appeal.
Stain-resistant fabric is a given.
In a variety of installation styles.
Reversible on both the front and the back.
Construction that is both durable and sturdy is provided.
This has all the accessories in the package.
Cons:
Can get easily scratched as complained by some of the customers.
Warranty is not provided by the manufacturers.
---
14. Kraus KHF200-33 PRO Stainless Steel Farmhouse Sink
As a manufacturer of high-quality bathroom and kitchen fixtures at affordable prices, Kraus is well-known. Kraus KHF203-33 is a perfect example of the company's mission statement.
Incorporating an apron-front sink into your kitchen cabinet will allow you to make a bold fashion statement. Thanks to the large capacity of the deep bowl, you can easily handle your largest cookware and take care of all food preparation tasks that require cleaning and washing up.
Standart Pro farmhouse sinks combine style and functionality with oversized bowls, a durable finish, and exclusive NoiseDefend sound reduction for superior noise reduction from dishwashing and waste disposal.
Built with dent-resistant TRU16 construction, these sinks are made from extra-tough T304 stainless steel. 16 gauge TRU16 stainless steel sinks are extremely durable and long-lasting, and they are always 1.5mm thick.
The bowl is designed to drain completely, with a steeply sloping bottom to prevent standing water. Glassware that is placed in the sink at an optimal angle will not fall.
With its softly rounded corners, the sink bowl offers more workspace and a sleek, contemporary look that's still easy to maintain. 80 percent of the sink base is covered with sound-absorbing pads that are extra thick.
Improved sound-deadening and insulation result in a quieter kitchen. Prevents condensation from forming on kitchen cabinets, which can lead to damage. As a result of its extreme resistance to crazing and cracking, this farmhouse sink exudes elegance.
In addition, it has a high-gloss finish, making it the focal point of your kitchen once it is installed. The sink, of course, is also stain-resistant. The Kraus sink is reversible and enough big for outdoor usage.
You can choose between a traditional rounded apron and the modern flat one. Furthermore, the sink has a single bowl that is both incredibly large and incredibly deep.
Because of its depth and straight sidewalls, you can work uninterruptedly. It is capable of handling large appliances, such as baking sheets and stockpots, without any problems.
Pros:
Has the ability to be used with traditional or contemporary countertops.
High-quality materials make this product thick and durable.
Stain and scratch-resistant.
The slope at the bottom of the building is designed to facilitate rapid drainage.
Construction that is impervious to water.
The necessary items are associated with the product.
Cons:
Some customers say customer service is not up to the mark.
No information with warranty.
---
15. Ruvati Brass Tone 36-inch Matte Gold Farmhouse Sink
With the Terraza series, stainless steel takes on color. Thanks to new nano-PVD technology, a durable colored finish has been applied to stainless steel. Fingerprint and stain resistance is provided by the matte finish.
This Terraza sink is available in Matte Gold to match your gold and brass fixtures. The gold-colored curved stainless steel apron front will make your sink the center of attention in any kitchen!
It is now very popular to have gold or brass-colored hardware in the kitchen. You can now add a brass-tone sink to your bathroom to match your existing fixtures. No rusting or tarnishing with 16 gauge T-304 grade stainless steel construction.
It is applied as an outer layer using an innovative NANO-PVD technique, making it absolutely strong and resistant to peeling or wear and tear. Clean and dry sink thanks to sloping bottom and four drain grooves on the bottom of the sink.
Large heavy-duty SoundGUARD pads and thick noise-proof undercoating – minimize noise and provides superior thermal insulation. Also includes a stainless-steel bottom wash grid that provides protection for the sink from scratches and doubles as a pot-and-pan drying rack.
It is easy to clean and has a long service life. The matte finish resists fingerprints and stains thanks to its matte texture. Defensive against moisture, it allows for efficient drainage. Included is a basket strainer drain in the same color.
The sink's matte gold stainless steel drain is constructed in the same manner. Also available is a garbage disposal flange that matches (sold separately). To make cleaning easier, all inside sharp edges and edges are concave.
The brass finish is one of the best things about choosing this Ruvati series. If you have a brand new kitchen, this will easily complete the look of your kitchen.
The brass finish is the classiest one according to our expert team. The cleaning and maintaining method is also easy for this product. You do not have to take any other steps or effort to maintain the sink.
Do not give it a second thought before going for the Ruvati brass series with 36 inches deep bowl. The base cabinet is also standard that allows you to keep all the necessary items handy.
Pros:
The brass finish makes it look elegant and different.
Extremely sturdy and robust.
The garbage disposal is easy to install.
No need to make any extra effort to clean and maintain.
The sink is 36 inches deep bowl.
The matte gold finish gives it a different extraordinary look.
Cons:
No information about the warranty.
Sometimes, the drainage can get a bit messy.
---
Final Words
As you have read all the reviews entirely, we have cleared all your doubts regarding the installation of a farmhouse sink. We've concluded our reviews.
We hope this list of the best farmhouse sinks in 2023, as well as the individual reviews for each farmhouse sink on it, helped you go one step closer to selecting the appropriate one for your kitchen.
Kindly comment if you have any feedback or queries. We would be delighted to hear from you! When it comes to selecting the greatest farm sink for your new or remodeled kitchen, our comprehensive guide above will take you through the difficult process of selecting the most suitable item.
We've covered all you need to know about farmhouse sinks, from critical considerations to our carefully curated list of the top farmhouse sinks available today.
Purchase one of these sinks today if you want to improve the appearance of your kitchen and gain additional sink space. The details will help you make your decision an informed one and will never give you any scope to regret later.